I will be honest here. I am a casual Marzia fan, meaning I watch all her videos, visit her webshop and website once in a while, and follow her social media. However, my heart still broke when she announced her departure from Youtube on 22/10/2018, a day after her birthday.
Watch her video explaining why she chose this date. The first time I see the name Marzia Bisognin was from a comment in Pewdiepie's (Felix Kjellberg) video where he introduced Marzia to the world. When she started her channel, I subscribed mainly because of her relationship with Pewdiepie.
However, as time passes I began to watch her for her. So, I want to talk about 3 things I, hopefully you as well, learned from Marzia.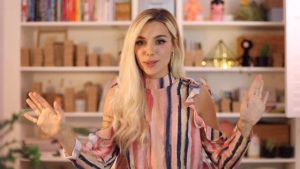 Her optimism
One thing I got from watching Marzia's videos was how optimistic she seemed to be. Following her and Felix's story, I realized that Felix didn't go completely insane, because Marzia was there and vice versa. Imagine this; you just turned 19 and before you could settle into adulthood you decided to move to another country. Starting a new life with 0 certainties, how else would you have kept going if you weren't optimistic about the future?
I believe this optimism is shown more in her later videos, where she set realistic monthly goals for herself and tries her best to achieve them. Sometimes she doesn't, but she could handle it in a way I really admire. To me, she has figured out a lot about life after leaving Italy to begin her and Felix's insane journey. Unlike many who would become pessimistic after experiencing so much, she became optimistic.
Her passion and drive
You may have heard about her brand, Tsuki and Acqua, but do you know her journey to this point? First, I need to point out that I may miss some things, so please don't crucify me if I do. When Marzia was still studying, I always admired her dedication to her passion. At that stage, I was also studying but I had no idea what I would do afterwards. I believe that is how it is with most students. However, her video style and content somehow spoke to the viewers, "everything will be fine".
Her comments were mostly filled with positive messages and suddenly I had an epiphany. My life path for the next 5 years became clear to me for the first time. Somehow her passion for art and her drive for self-improvement inspired me. When Marzia and Felix announced Tsuki, I felt this genuine happiness for them. Tsuki didn't come out of nowhere; anyone who followed her journey knew it wasn't easy.
Her courage
Lastly, I think many have guessed it, I want to talk about her courage to leave. Even though Marzia would still be on social media, she decided to end her Youtube and blog journey. She talked about the reasons why she is leaving, I still think to be able to actually go through it requires a lot of courage.
To be able to end a chapter in your life, to say goodbye to a life many wished they had, and leave your familiar routines needs determination. I can't imagine how difficult it is to take this step. But I am not surprised. If anyone could do it, it would be Marzia.